The Canon XH-A1 is an incredible camera that delivers tons of professional features while keeping to a budget. This is an easy camera to admire.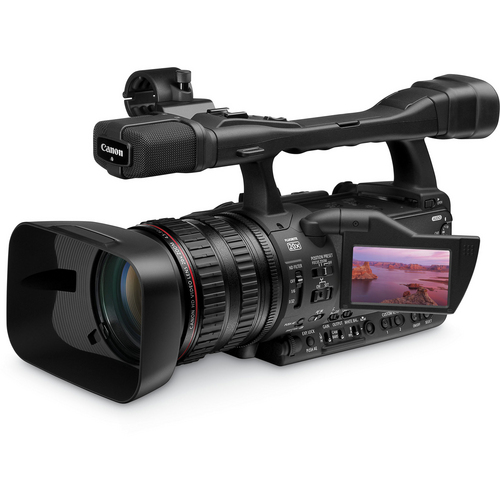 The Canon XH-A1 records a gorgeous high resolution image, using three 1/3″ 16:9 interlaced CCDs that capture images at 1080i resolution. On the practical side, you can shoot SD with this camera too.
For the advanced videographer, the XH-A1 Canon camcorder features selectable frame rates of 60i, 30 Frame and 24 Frame. 30 is standard for broadcasting, but you get a different look and feel to those differing frame rates and professionals like to have the flexibility.
To get the look and feel of motion picture film, use the 24 Frame rate. The 60i frame rate is well suited for slow motion effects.
The XH-A1 shoots video on miniDV cassettes. MiniDV is a fantastic format IMHO. Editing systems all accept MiniDV and it's nice to have what you shoot on its own little back-up and storage system. Especially if you are shooting pro. Sticking with miniDV tape instead of going tapeless saves you the trouble of having to store and capture important client footage that needs to be kept.
Tapeless is cool, I like it.  But, in all honesty, you often do not really get the time savings they boast about in transferring your video.  So many folks still like the miniDV format.
The XH-A1 captures still images (not video) onto a removable memory card. You can use any of the following:
Secure Digital High Capacity (SDHC)
Secure Digital (SD)
MultiMedia Card (MMC)
The XH-A1 is an updated version of the award-winning XHA1 HDV camcorder that everybody went gaa-gaa over a few years back. This update is even nicer.
The Canon AH-A1 image sensing mechanism contains three large CCD chips. (Three 1/3″ Native 16:9 CCDs at 1440 x 1080 Interlaced). These robust chips give a sharp, well colorized image.
For audio, you have two XLR inputs and a headphone jack.  That is so important!  Wear headphones to make sure the audio you are picking up is good.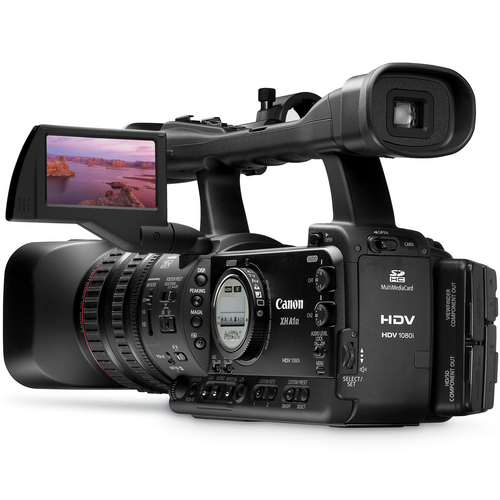 Something I'd never seen before, the flip-out LCD rotates enough to be capable of being viewed from both sides of the camera. That sure would be nice and save your neck from getting too twisted up.
The camera gives you two built-in neutral density filters, a 1/6 density and a 1/32. If you shoot outside a lot, these can be very handy.  Neutral density filters are used to knock a bright light level down so you can better control your depth of field.
Variable shutter speeds allows the advanced videographer to get crisper slow motion and freeze frame images. Variable shutter speeds can also let you eliminate the annoying scan lines you get when videotaping older models TVs and computer screens.
The Speed Range of the AH-A1 under your control includes:
60i/30f 1/4, 1/8, 1/15, 1/30, 1/60, 1/100, 1/250, 1/500, 1/1000, 1/2000, 1/4000, 1/8000, 1/15000, CS (Clear Scan)
To get a brighter image in low light, video cameras inject what's called "noise" into the picture. Noise consists of tiny white dots that give the illusion of a brighter picture. Noise is also referred to as grain. The grainy video image is full of noise.
To shoot in low light, cameras at this level allow you to increase the grain, or noise in the picture. It's called the gain and is referred to in decibel measurements. (dB=decibel=noise)
The XH-A1 give you extensive control over the variable Gain Selection as follows:
-3, ±0, 3, 6, 12, 18, 36dB
This is a fantastic camera.  If I were going to buy a brand new video camera today, I think this would be it.  And I like them ALL!
To see the Canon XH-A1 video camera at B&H Photo, click here.
Thanks for reading VPT!
Lorraine Grula
Internet Video Gal