What's it like to work as a TV News photographer?
This 7:11 video boils down the "highlights" of one man's lengthy career using a video camera and microphone to document the local happenings for Tennessee television stations.  His name is Newt Danley and he is a longtime friend of mine.  We worked together for many years at WSMV-TV in Nashville.
The video is an amazing collection of shockingly bad behavior. As a TV news cameraman, you have to be prepared for anything. Even being shot at or hit by the people you're videotaping.
Newt edited this compilation of  the wackiest, most extreme moments he'd caught on camera in  his many years of working a TV news photographer.
Newt and I worked together for about 15 years at WSMV-TV in Nashville, TN. Fortunately for me, Newt attracted all the nasty nut jobs while I was out interviewing doctors as the Health Tips producer. I had it easy.  🙂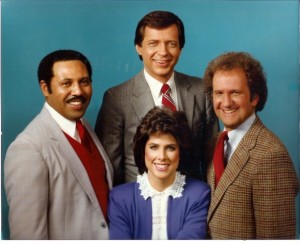 Doctors were always eager to be seen in Health Tips TV segments as it promotes them as good guys and trusted medical experts.
Newt's job was entirely different. He worked in general news, where plenty of people involved in the stories are not even remotely interested in publicity since they're not by any stretch one of the good guys.
SOME PEOPLE SIMPLY DO
NOT

WANT TO BE SEEN ON TV!

Watch the video and see a stream of people who were not thrilled about the prospect of being videotaped by Newt.

They scream, slap, and swear their displeasure.

I confess to laughing my head off at certain parts of this video, then cringing at other parts. Still other parts are downright scary as Newt videotapes a shootout between bank robbers and the police. That part begins around 6 minutes. He was in great danger himself, but like a pro, kept both his wits and the camera steady while potentially deadly chaos ensured around him.

Right after the gun fight you'll see Newt's point of view as he's nearly mowed down by an out-of-control car in a rainstorm.

Just the daily fun stuff experienced by a hard working TV news photographer!

IN NEWS VIDEOGRAPHY, NOTHING IS STAGED (OR AT LEAST IT SHOULDN'T BE)

Honestly, most news photographers spend their days on more mundane assignments than bank robbery shoot outs; I did. Even so, expecting the unexpected, going with the flow and gracefully capturing whatever happens with your camera, is a key aspect to working successfully in television news field reporting and documentary style video production.

Covering health, I was never in danger but I still had to work spontaneously all the time. That is the very nature of documentary style video production. You'll get the best footage when you can be an inconspicuous fly on the wall and manage to race around with lightening speed videotaping all of it as it happens naturally.

Contrast that to the style of video production where everything is scripted and rehearsed, as in a fictional TV show. News is the opposite. The cameraman has to be on his (or her) toes to capture the best shots while things happen spontaneously. To do this well takes a lot of experience and knowledge of what is going to be needed later in the editing room.

It helps to be able to anticipate what is going to happen. With enough experience this certainly becomes easier.

You also have to keep both eyes watching different things. Keep one eye glued to your viewfinder, the other watching what's going on around you. It's real easy to get lost inside your camera's viewfinder, but it's incredibly important to keep one eye alert to what is happening outside the parameters of your camera lens.

In some instances, like the shoot out, it's dangerous not to. But even if no guns are firing off, you've got to be aware of other people, cars, stairs and other things that could trip you up.

DOCUMENTING LIFE

As a TV News cameraman, you often cover lots of crime and other situations where unsavory types are in the midst of being caught or taken in front of a court. As a general assignment photographer, that is the sort of thing Newt encountered on a daily basis.

I, on the other hand, spent more time in operating rooms, doctors officers and scientific labs, so my highlight reel is not as dramatic as Newt's!

Either way, working as a television news photographer gives you an up-close and personal view of the many varied levels of humanity. I treasure all the experiences I had meeting fascinating people who had perhaps performed incredible feats, or maybe had endured significant hardship in an inspiring way, or had otherwise experienced something unique and had a newsworthy story to tell.

Working as a videographer documenting life is certainly a wonderful way to make a living, no doubt about that! If you get the chance I say go for it.

If something like that is your goal, here's another post to  help you, this one on the subject of videotaping spontaneous events.

Thanks for reading Video Production Tips.
Lorraine Grula
Internet Video Gal