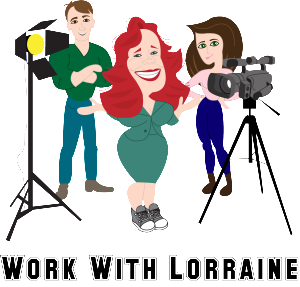 First, let me say thanks a million for being a member of The Academy at Video Production Tips.  Congratulations on pursuing video!   I am thrilled to come along on with you on your journey.
If you're ready to kick start your video efforts and feel like you are still missing something struggling on your own, then do yourself a favor and sign up to work directly with me!
As a member, you will receive a 30% to 50% discount with one-on-one coaching fees compared to non-members.  (Fees are outlined below.)
Although we do our absolute best to provide our members with complete, easy-to-understand information, there truly is no substitute for personalized guidance to answer your specific questions and solve your specific production problems.
Honestly, video making can leave people dreadfully confused.  I totally get it!  Especially if your video project is at all complicated, it can easily take 2-3 times as long, and cost 2-3 times as much to get a video finished slogging it out alone than if you were to receive individualized assistance.  Personalized coaching is truly a cost-effective method to make sure your video projects get done.
Every project and every person is different.  Please use this form to contact me directly so an individualized consulting package can be arranged.  I'm here to help!  Even more info is below the form.
WHAT KIND OF SERVICES DO WE PROVIDE AND HOW MUCH DO THEY COST?
Whether you just need a few questions answered, or you need a video fully designed and created from start to finish, Lorraine can fill your needs.
In short, if it concerns making videos, Lorraine can provide consulting to get you past your hump.  The vast majority of requests fall under "Basic Consulting," which is just $50 per hour for members of The Academy.  (This is a Members-Only 50% discount)
We can usually handle whatever issues you are facing.  Whether it is coaching (read: handholding) to sharpen your on-camera skills or guidance with any aspect of video making, such as:
Scriptwriting
Editing
Pre-Production Planning
Production Roadblocks
Equipment Purchase Decisions
Developing Video Campaigns
How to Best Use Your Videos Online
We can help.  This is just a partial list of ways in which we can help. Just let us know what you need and we'll figure out how to do.
All of these services fall under basic consulting.
Basic consulting on any video-related subject runs just $50 per hour.  (Non-members pay a fee of $100 per hour.) Long and involved projects are given a package deal so you do not have to sweat every minute.  The precise fee for a longer project is determined after we understand what  you are needing.
Video Critique
Another common service is for us to provide a written, in-depth critique of any video you have already made.  This service for members is just $40 per video under 15 minutes in length.  (Non-members pay $60.)  Videos longer than 15 minutes will be charged another $10 per every 10 minutes of length.  (Non-members pay $15.) So a critique of an hour long video would run members $60.  (The fee is $105 for non-members.)
Remember all of these fees are a 30% to 50% discount because you are a member of The Academy at Video Production Tips!
Why Should You Hire Lorraine?
With nearly 30 years of video production experience, Lorraine has seen and done it all, from producing videos from deep inside the bowels of a cave to high on top of a mountain.  With Lorraine, you are not getting someone who just wants to sell another product or got in the business last week because she could see that online video is a hot commodity.  Nope.  You are getting one-on-one guidance from someone who successfully manifested her passion into an award-winning career, then began an online video blog with tons of detailed information sufficient enough to help the next generation develop the skills needed to create spectacular videos.
Save yourself time and headaches.  Get some personalized coaching directly from Lorraine and consulting reach your online video goals faster and easier.