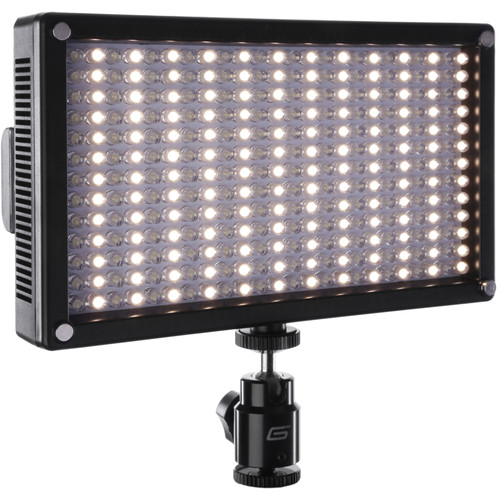 LED lights have become a useful tool in the videographer's arsenal of equipment.
LED lights stay cool to the touch and use very little electricity. Many of them run off batteries, I've seen some that can take any one of five different kinds of battery, including standard AA. This means you don't have to be anywhere near an electrical outlet to add light to your shot.
For example, a camera-mounted portable light I own, the Cinematix LED 150 has an output rating that is the equivalent of a 160 watt tungsten halogen lamp (bulb) but the Cinematix LED 150 is only 9.6 watts. This is typical of LED lights compared to tungsten.
With LEDs, no energy is wasted generating heat.  Every bit is going toward producing a bright beam. Tungsten light on the other hand get tremendously hot and basically, that heat is just wasted power.
Since LED lights use such small amounts of energy, a battery-powered one can last a good long time compared to what a tradition tungsten lamp would.
Another comparison that shows traditional tungsten halogen inferior to the newer LED style is lifespan.  LEDs are predicted to 30,000 hours, which is eight hours a day for ten years!  Even if that prediction proves overly optimistic, a tungsten light would burn out a few months of heavy, daily use.
From a user's standpoint though, not scorching your fingers is one of the best features of LED.
One of the big drawback to LED lights has been the cost, which is not a surprise but the cost is coming down.
By itself, most LED lights are white balanced for daylight, which means the camera sees it as blue.  Using an amber or pink plastic filter in front of your LED will bring that down to match light that's more orange, such as tungsten or incandescent. Sometimes these same filters are used to provide a warm glow to your shot and you let the slight orange or pink add the warmth while you are color balanced to standard sunlight.
Some LED lights for video actually have adjustable color temperature without using filters.  Although the one I have does not do this, from what I have read, this feature does not always work real well.  Hopefully, it can be improved.
Some LEDs also have on-board dimming features, which I really love.
LEDs make great camera-mounted lights, which are used for run-and-gun style videography, like news.  No cords, no hassles.  Go ahead and run after that crooked politician who doesn't want his shot taken!
Used outside, this is a great fill light for the sun. If you're close enough to your subject, an on-camera light will do a lot to fill in the deep shadows created on a bright, sunny day.
LED stands for "light emitting diode." Each diode is fairly small, so LED lights for video production are made of hundreds or more diodes.
All-in-all, I think LED lights are great for video production.
Thanks for reading VPT
Lorraine Grula